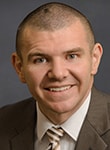 Joseph Dansie
AuD, CCC-A, CISC, PASC
Dr. Dansie received a B.S. degree in audiology and speech-language pathology (communicative disorders) from Brigham Young University in 2006 and obtained a Doctorate of Audiology (Au.D.) degree at Utah State University in 2010. He is a certified member of the American Speech-Language Hearing Association, the American Cochlear Implant Alliance, and a fellow of the American Academy of Audiology. He earned a graduate degree emphasis in pediatrics and auditory learning and spoken language development. Dr. Dansie has specialized experience in cochlear implant evaluations and programming for pediatrics and adults.
In addition to his experience with general audiological evaluations and hearing aids, he has extensive experience in diagnosis and treatment solutions for pediatric hearing loss. He holds the Pediatric Audiology Specialty Certification (PASC) from the American Board of Audiology. He specializes in single-sided deafness hearing solutions and implantable hearing devices.
Dr. Dansie is the first audiologist in Utah to receive the Cochlear Implant Specialty Certification from the American Board of Audiology, a designation that fewer than 60 out of the 13,000 audiologists have obtained nationwide.